January 18, 2006—
Bright blue sky, crowded streets, glorious golden sunshine, ghastly gray smog, tall buildings, short Chinese, small rooms, and big Americans. What's the common denominator? Taiwan!
Yes indeed, the Taiwan 2006 CI trip has officially begun, and it started out with an amazing action packed day! This morning I woke to find myself in a small, but relatively comfortable room somewhere deep in the heart of Taichung's famous Ful Won Hotel. How I got there I am still trying to figure out. After waking, having personal devotions, and eating a quick breakfast, the team assembled in room #836 for a group wisdom search. Rowan was the leader today, and he talked about the importance of filling our minds with God's Word, and of knowing who God is. He also challenged us to know why we believe the things that we believe, and to base ALL our beliefs on God's Word. It was a good reminder to me that I need to be in God's Word constantly so that I do know why I believe what I believe.
Shortly after wisdom search we packed ourselves onto the Hosanna Bus, and made our way to the Xi Tou Bamboo Forest. Here we all divided into touring groups, and explored the scenic hiking trails as we saw fit. My group followed a seemingly endless trail of winding stairs, though very beautiful, they were (at least to my knowledge) endless. I don't remember whose idea that was, but my legs and lungs are telling me that the chooser of the trail should be hanged. Never have I climbed so many stairs so quickly.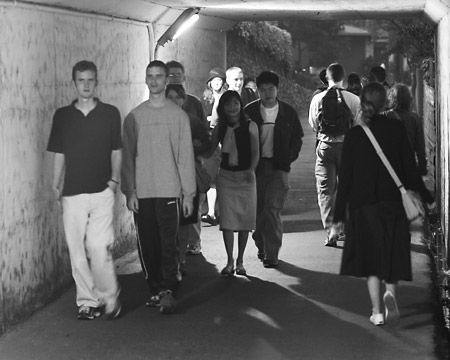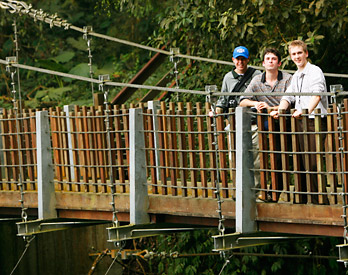 At four o clock, all the groups reassembled on the bus and traveled to the city of Nantou, where we all took part in a silent prayer walk through the city. As I walked through the city I continually found myself wanting to pray for the physical needs that I saw all around me, but about halfway through the walk it struck me that these people's greatest need was not for physical help, but rather for help and healing in their hearts. I realized how often I look on the outward appearance of a man, and that God looks past that to see the real issues. Another thing that struck me like a bolt of lightning was how seldom I pray for the people around me; in my normal daily life I never seem to have time to stop and pray for others, and I definitely am going to change that.
When the prayer walk had ended, we loaded the bus and went out to eat dinner. The meal was nearly all (what I consider) Chinese food, and everyone ate to their hearts content. Well, almost everyone did. Don't worry parents, what doesn't kill your children will only make them stronger!
On that note, I wish the very best to all our loved ones back in the States, thank you for your prayers, and God bless you.
—Kennan Gillson
ATI Student from Saint Cloud, MN