January 20, 2006—
And now Lord, what wait I for? My hope is in Thee. Psalm 39:7
I was reading in Psalms this morning and came across this verse. I claimed it as my verse of the day!
…What wait I for? Tonight was the beginning of the Taichung seminar. As preparations began, I asked myself if I was truly ready to face these children, if I had done all I could to be ready, and if I was willing to let God take care of the rest. I believed God used this verse to challenge me to dive into what He has called me to do—trusting Him completely for the end result. I committed to accept whatever God gave me, whether it was giving special attention to an extremely shy child or sounding dumb when pronouncing Chinese words wrong in my attempted communication. What am I waiting for? I have been called to Taiwan for such a time as this. Do I have open hands for whatever God brings my way? These are questions I had to ask myself before the children arrived at our team. Praise God that He is faithful to do exceedingly abundantly above all I could ask or think! He blessed me with an incredible team of children who are lively, (adorable!) and eager to learn about God's love for them.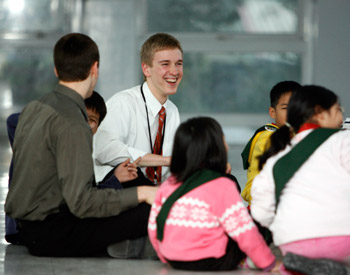 My Hope is in Thee. This part of the verse challenged me to hope in the God alone. What would it profit me to put my hope in another person, in things or circumstances? If my hope is in the Lord, I am rooted and grounded in Him—unshakeable. I have hope for each child that is on my team! I know that God can and will work in their lives as He sees fit—I must simply be His messenger, a channel of His love! I must be ready always with an answer for the hope I have inside. A couple of days ago we took a prayer walk in Nantou. As I walked around I pondered the hopelessness that so many of these people must live in from day to day—bound by sin and in need of a Savoir. How thankful I am to have the hope of knowing God! I pray God will use our team to show many how to put their hope in the Lord.
It's been a good day, and one I will not soon forget.
In Taiwan and loving it!
—Charity Sanders
ATI Student from AL