January 24, 2006—
What do I write about a day where I can hardly remember what I did in the morning? What do I write in the few minutes I have about that will make all of you who read it know how we are feeling and what we have experienced? What do I write about today?
Well, this morning I went down to breakfast at our incredible hotel and had what I have had almost every morning (I am so ABC…)…shi fan, which sounds very strange if translated into English, so I will defer. During breakfast we were piqued by the sight of a very large red fire truck parked in front of our building, and then very disconcerted by seeing about five firemen in full fire-fighting gala (hats, masks, gas tanks and all) saunter in and study something on a wall nearby for a few minutes and then file out again. I hear it was all just a drill, so no worries. This was not the last of our fire-related happenings, though, because for some reason the alarms went on and off at the church during teacher training in the afternoon. Hopefully no more of that will happen, at least not for any real reasons.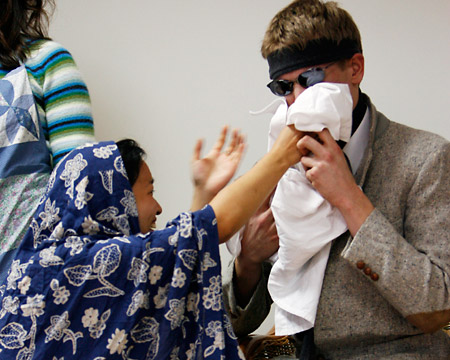 At 10:00 my prayer team (Faith, Brad, Lee Ann, Annie, Charity, Kennan, David and Tracy) set off to a salon to get our hair done… in Taiwan this means getting a nice massage, hair wash, and straighten (or gel, for the guys) for only 150 NT… which I think is about $5 US. Quite fun hitting it off with the shop girls (telling them who we were), and an exciting new experience for the ones who had never done it before. After we were all fresh and shining with our lovely newly-washed hair we traipsed to the Outdoor Café for devotions, sharing, and lunch. We each shared about what kind of struggle, victory or lesson we had experienced during the past week, and encouraged each other by praying for each other. Prayer has been so important on this trip and it was good to pray with each other as a small group, and share the burdens we were facing.
Tonight at the seminar we learned about Authority and Obedience. We heard the Sailor story, and then about Pharaoh with all the ten plagues he went through because of his disobedience. I was a plague in the last story and had great fun afflicting Pharaoh and his servants on stage… I've never been a plague before. ;-P From my perspective, I think the translation on my team went really well, and I am grateful that God has been answering our prayers about this part of the seminar. We continually need your prayers as some of us are sick this week, and as we all face our different challenges that might come up for us during this trip. God IS faithful. =)
—Shiowei Cheng
ATI Student from MD