January 27, 2006—
Well, today was a very event filled and exciting day. It's Chinese New Year today, which starts the year of the dog. In Chinese culture they have a really cool New Years tradition. The older generation gives the younger generations red envelopes. If someone offers you an envelope, you accept it and make sure you say xie-xie. The envelopes contain goodies. In Taiwan they are usually filled with NT (Taiwan Money). This afternoon Chen Ma-Ma gave us all envelopes, with NT for supper.
This morning we broke up into small groups to attend church. My small group, which is lead by Dan Davis, attended Grace Baptist, which is where we will be holding the Taipei seminar. The service was translated into English, which made it really nice. It was pretty much your typical traditional service. A couple of hymns, scripture reading, choir, and the message. It was a good sermon as the pastor talked about planning for the new year, and not dwelling in or fretting about the past, but looking ahead to the future and the upcoming year.
After church, all the small groups met at Ponderosa for lunch. I got the buffet, which was very good. Lunch was a great time. I love going out as a whole team and being with a bunch of like minded young people. We have had a couple of chances to go out to eat as a team, and it's a blast every time.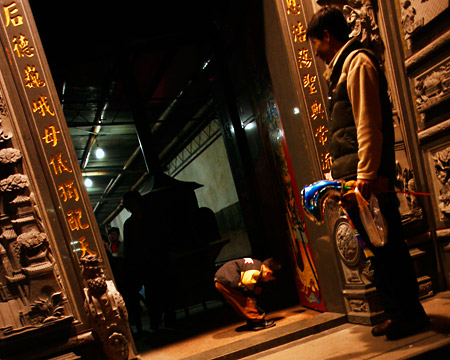 When everyone was good and done with their meal, we headed back to the hotel. We had about an hour of free time, which I used to catch a little shut eye. The team then met down in lobby, and when everyone was there we headed off for Danshui. It was about a half hour trip on the MRT. Danshui is along the coast, and there's a whole lot shops to buy just about what ever your little heart desires. The afternoon and evening was filled with many firsts. Tonight, I had my very first massage. If you're ever looking for a good massage, you can get some really nice ones in Taiwan. Another first for me tonight, was when I ate a snail. That was a first, and hopefully a last! A snail is eaten by sucking it out of it's shell. You have to suck really hard, or it will not won't to come out, even though it's dead. At least I think they're dead. The shells are filled with a lot of garlic, so the snail doesn't really taste all that bad. Never the less, it's not really something that I'm dying to do again. We stayed in Danshui until 7:30, at which time we all boarded the MRT and headed back to the hotel.
The evening concluded with packing, Pizza Hut, and Dutch Blitz. Tomorrow we fly to Hong Kong, and I'm pretty much all packed, but that's what most of the other team members are working on. After we got back from Danshui, Tim Cook and myself headed over to Pizza Hut, where we purchased a couple of pepperoni pizzas. We took the pizzas back to the hotel, and distributed them among those who were playing Dutch Blitz in the Business Center. After finishing a few slices of pizza, I also joined in the game. We played four rounds, and my team came in first with 40 points, and Kristi's team finished second with 39 points.
That just about sums it up, it was indeed a very exciting day. I'm really looking forward to Hong Kong, and our final week in Taipei. And I'm anxious to see how God is going to continue to use this awesome team that he has put together. Please continue to pray for the team, especially this week as we will be serving in Hong Kong. This will be the very first Children's Institute to ever be held in Hong Kong, and I can guarantee that Satan doesn't want us to be there. Therefore, the team and I really covet all the prayers that our lifted before the throne of God on our behalf. And in closing, it is my prayer that God would richly bless each and everyone of you who have been, and are continuing to pray for us, as we seek to serve Him in Taiwan and Hong Kong.
—Josh Heath
ATI Student from Newport, PA