January 30, 2006—
In my dreams…
I rose with the dawn, hoisted my immaculately packed 44-pound-or-less check-in bag to my shoulder, and jauntily strode to the corner Starbucks for a morning Macchiato before checking out of the Friends Hotel.
OK, actually I got up as late as possible, and rushed hurry-scurry down to the lobby to weigh my hastily-thrown-together bags. They were well within the weight limit! However, I didn't have time for a shower…It's OK, though, it's OK, I'm a naturally clean guy.
I ate a final handful of Oat Square Cereal in the lobby with my sister, Naomi (who teaches English in Taiwan and was visiting us), said an emotional goodbye to her, and we were off on the bus. Ah, Taipei our sometimes home, we must bid thee farewell once more!
We received spiritual counsel and encouragement from Tim, Karen, and Rowan, trying to get the right mindset for the HK seminar. It looks like a good possibility that we will have 30 students per team because of a lack of Cantonese translators. This is a very large challenge. We had a prayer time. I recognize in myself a need for greater love for the children. And love for my fellow teachers. I pray for this. I pray for God's love. I pray to know and love God more, for a closer relationship with Him today and tomorrow and each day.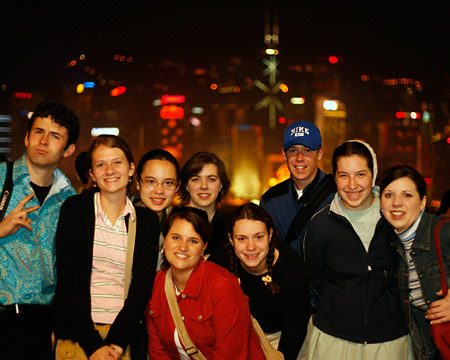 At Chiang Kai-Shek Int'l Airport, I was treated to a front-row seat as Zach and Tim Brown did their "Little Man" skit (where one guy stands behind and sticks his arms through the front guy's shirt sleeves, then they try to do all kinds of weird stuff in a very disjointed, hilarious fashion). Wow, I laughed until I cried. An unknown Chinese man was eating lunch near us, finished eating, but remained seated, watching us. As soon as we got up to leave, he did too. Best entertainment around, I'm sure!
Some people's bags were a tad over weight, but as Tim Chen surmised, perhaps they made up the difference from those of us who had very light bags. I proudly tied for 2nd, with Kristi Cook, at 11 kilos, while Rowan and Charity tied for 1st at 10 kilos.
Hong Kong International Airport was smooth and fast. Maybe we were lucky. Maybe that's just the Hong Kong way…later at night, after standing with 500,000 people in the streets watching fireworks, I was amazed how efficiently and quickly they all dispersed! Wow, not even much garbage left over! Chicago, how far indeed we have to go.
But that was later…anyway, we bussed from the airport to the "hostel" which seems to be a dormitory-type facility, currently vacant, and with a very touchy name. We are warned by Rowan to pronounce it very carefully when speaking to our parents on the phone "We're staying at the 'Fok Ying Tung' hall of residence". It's utilitarian, but comfy enough.
I've been taking opportunities to ask Jessica Lee for Cantonese words and phrases throughout the day, compiling a list. Yeah, a bit last minute, but, hey, I was focusing on Mandarin, so give me break, you know?! Anyway, supper furnished the first chance to use one…and I…forgot it! We ate at a pretty traditional looking, smelling and tasting place down some curvy side street. (I knew it was a side street because it only had like 3 lanes and the skyscrapers lining it are only like 10 stories tall) Actually, by the end of the meal, I had successfully said "M'Goi Sai" numerous times to our happy host, so thank you, thank you very much!
Did I mention that Hong Kong is basically, fundamentally enormous and huge in every dimension? I'll leave it to someone else maybe to give a fuller description, but I would like to close this day by noting that the view from the airplane as we landed, the bus as we drove around, and my hostel window all night, brings only one comparison to mind. An alien planet, probably Coruscant, the Star Wars planet which is completely covered in metropolitan city. There is no escape, no recourse, no hiding place. Just relentless, inescapable, eternal downtown. Hong Kong, here we are!
—Luke Kallberg
ATI Student from IL